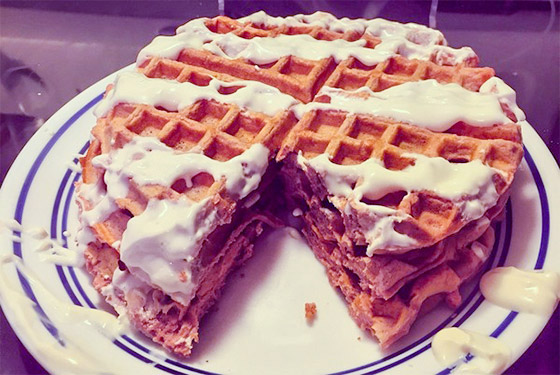 Waffles, pies, and cookies, oh my! Break out your mixing bowls, preheat the oven, and prepare your spatulas to take on these high-protein treats from bodybuilder Bob Kupniewski, known as Cellucor's "Chef Bob."
He'll help you make the most of your protein-packed meals with recipes that prove protein powder can be more than two scoops of sediment at the bottom of a shaker bottle.
1 RED VELVET WAFFLES AND CREAM
CHEESE FROSTING
Waffles are good with syrup, but frosting really takes the cake. Cover each nook and cranny of this protein-based, red-velvet-flavored creation with the wonderful texture of cream cheese and devour a good-for-you meal that onlytastes like a cheat.
A stack of these to kick-start your day? Yes, please.
Preheat waffle iron to a medium heat.

Combine all dry ingredients: pancake mix, whey, baking powder, Splenda, pudding mix, and salt. Mix.

Add the egg, egg white, almond milk, and yogurt.

Mix with a hand blender or whisk until you achieve a batter-like consistency.

Apply cooking spray to waffle iron, and pour in the batter. Cook for two minutes.

Repeat the process until all the waffles are made.

Microwave cream cheese for 20-25 seconds or until it starts to melt. Apply as glaze on top of the waffles.

Add syrup if desired. Enjoy!
NUTRITION FACTS
Serving Size: 1 waffle
2 CELLUCOR CINNAMON SWIRL PUMPKIN MOUSSE PIE
Protein? Win. Pie? Win. Protein pie? Win-win! Blend the light airiness of mousse with the classic flavor combination of cinnamon and pumpkin.
Combine all dry ingredients in a bowl: Cellucor whey, pudding mix, pumpkin pie spice, and Splenda.

Mix wet ingredients in a separate bowl: Greek yogurt, cream cheese, ricotta cheese, and pumpkin.

Combine wet and dry ingredients. Stir together to form a very thick mousse for your pie crust.

Pour the mousse into the pie crust. Break up a graham cracker for extra decoration and added crunch in your mini pie.

Store in fridge to thicken the mousse. Devour!
NUTRITION FACTS
Serving Size: 1 pie (not including extra graham cracker)
Note: Graham cracker would add an extra 75 calories (1.5 g fat, 14 g carbs, 0.5 g protein).
3 CELLUCOR PEANUT BUTTER MARSHMALLOW PUMPKIN PIE
You don't need a roaring campfire to get down with the goodness of marshmallows. Keep warm inside while nestling up to their fluffy goodness with this protein pie recipe. Fair warning: The added combination of peanut butter and pumpkin will be enough to make your taste buds go wild.
Preheat oven to 350 degrees F.

Combine all dry ingredients in a mixing bowl: whey, pudding mix, Splenda, cinnamon, baking powder, and sea salt.

Add in wet ingredients: egg, egg whites, Greek yogurt, almond milk, vanilla, and canned pumpkin.

Spray an 8-inch springform or Pyrex pan with cooking spray. Transfer mixture into pan.

Cook in oven at 350 degrees F for 30 minutes and then at 300 degrees F for 20 minutes.

Insert a toothpick. When it comes out clean, the pie is ready.

Allow to cool for 30-45 minutes.

Set in fridge to settle for at least 3-4 hours. Enjoy!
NUTRITION FACTS
Serving Size: 1 pie
4 CELLUCOR CINNAMON SWIRL SNICKERDOODLE COOKIES
Just the word "snickerdoodle" brings up memories of rich, cinnamon-sugar cookies baked until they're crispy around the edges yet still soft in the middle. Turn this old classic into a macro-friendly option that won't ruin your diet—and might even help boost your gains.
Grind 1/2 cup oatmeal into a fine powder. Pour the powder into a mixing bowl and add the dry ingredients: pudding mix, PB lean, Cellucor whey, baking powder, Splenda, cinnamon, and pancake mix.

Add egg and Greek yogurt. Slowly pour in water to soften the mixture. A dash of water should be enough to form a batter. Keep mixing until the batter is thick.

Preheat the oven to 350 degrees F. Line a baking sheet with aluminum foil and coat it with cooking spray.

Spoon the batter onto the sheet, leaving an inch between each dollop.

These bake quickly, so check them after 7-8 minutes in the oven. The bottom should be a slightly golden-brown color and the top should be fluffy.

Allow to cool for 10-15 minutes. Enjoy!
NUTRITION FACTS
Serving Size: 1 serving